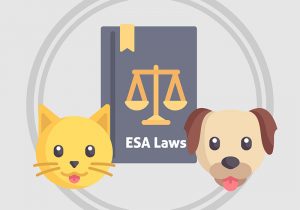 Animals are our friends and loyal companions through every aspect of life. They often sense when things are wrong and they reward us with their unwavering support through life. We recognize the special connections that we have with our pets, but do we understand the effect that an animal can have on a person's physical or individual well-being?
Emotional support animals and service animals are not considered the same and the laws and regulations that protect service have not yet expanded in most areas to include emotional support animals. That being said, the Fair Housing Act does specifically refer to emotional support animals.
What Qualifies as an Emotional Support Animal?
Emotional support animals are most generally companionship animals that provide some form of emotional support to their owners. Emotional support animals do not require specific task-based training, but it they may be highly trained animals nonetheless.
An emotional support animal is most commonly a dog or cat, but some cases that have noted animals such as peacocks and hamsters. The animal for emotional support could technically be any animal that fits into the emotional support category.
Emotional support animals are most commonly recognized for their support to individuals with anxiety and depression, but there is a multitude of emotional disorders and needs out there that can be positively affected by emotional support animals.
For an emotional support animal to be legally recognized as such, they must be specifically prescribed by a mental health professional. This means that your counselor, psychologist, or other comparable mental health associate recognizes your need and the benefit of an emotional support animal and is willing to prescribe and authorize that need.
Emotional Support Animal Laws for Minnesota
States are able to provide and enforce their own individual laws concerning emotional support animals. It is required that their laws accommodate ADA regulations at a minimum. Even if the state's laws are more stringent than federal regulations, they must still comply.
Here are some basic points of the Minnesota state laws when it comes to service animals:
Minnesota state law refers to public accommodations as restaurants, hotels, stores, theaters, and various places open to the public.
Minnesota laws refer to service animals for specific disabilities, limiting the law even further than ADA regulations, but keep in mind they must still comply with ADA requirements.
Service animals as designated by Minnesota state law includes service animals for those who are blind, deaf or having a physical or sensory disability. Uniquely, the sensory disability could tie in to emotional support animals. The Minnesota state law does not designate psychiatric or mental disability, but ADA does.
Minnesota, as well as the ADA, does not specifically designate or cover emotional support animals.
Minnesota law does allow emotional support animals for housing because they comply with the Fair Housing Act, which does explicitly express that emotional support animals, and service animals cannot be discriminated against and must be allowed.
Despite the therapeutic benefits of emotional support animals, many laws have not yet been adapted to accommodate such animals. It is hopeful that these laws will continue to evolve to one day cover them.
Primary Differences Between Emotional Support and Service Animals
Service animals are nothing new. They have been around for a long period of time and serve an obvious purpose. It seems very challenging for the world to accept the purpose that emotional support animals serve. Since a disability cannot be immediately seen, the world designates that they are not necessary, but the world is generally misinformed on the topic.
Service animals are specifically trained to perform tasks for an individual with various types of disabilities. These tasks could include but are not limited to mobility, retrieving medication, a calming pressure through anxiety, pulling a wheelchair, and various other tasks. The thing to remember is that the animal is specifically trained to perform tasks.
Emotional support animals are recognized as companions that provide a therapeutic or comforting presence for their associated individual. Emotional support animals are noted to be helpful for anxiety and depression, as well as the ability to lure towards mental focus.
Emotional support animals have little to no definition or limitations, which is perhaps why they have become so widely popular but also so widely unaccepted. Remember that for an emotional support animal to be legally recognized, a mental health professional must be involved.
Registering Your Emotional Support Animal
Emotional support animals are a constant pal to your emotional needs, and service animals also provide a unique and necessary purpose. At USSA, we recognize that support animals of all kinds are valuable and they each serve their own unique purpose.
We strive to fight for and protect your rights and to educate support animal owners throughout the United States. We hope that you will consider registering your support animal so that you can be prepared for whatever type of situation life may throw at you.
Here are some basic benefits of registering your animal through the US Service Animals site:
Lifetime registration of your service animal in the official US Service and Support Animal Registry Database
Digital and Original copies of a registration certificate and photo ID package.
Customer support anytime through our live chat or phone lines
Staff attorney prepared to guard your support animal rights
Staff doctors able to provide required letters for housing and travel
While it is not currently required for you to register your support animals, we encourage you to be proactive and do so. Businesses and public accommodation areas cannot request documentation of service animals, but it is an additional courtesy to be able to provide documented support of your need for a support animal.
As the need for emotional support animals continues to increase, we believe that registration may someday be required and it is quite unclear what kind of rules or boundaries may be enforced if that were to happen.
Be proactive and prepared for any situation by registering your support animal with us today!