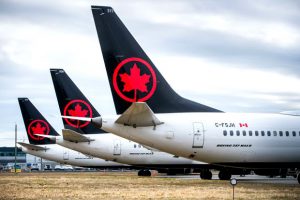 Air Canada follows the U.S. Department of Transporation's Rule on "Non-Discrimination on the Basis of Disability in Air Travel" (14 CFR Part 382) which applies to those customers with special needs.  This includes those who are traveling between Canada and the United States, and those who have purchased tickets with Air Canada operated through a US-based airline.  The ticket will bear the code of the U.S. Airline.
Air Canada Pet Fee
For non-emotional support animals, there is a $50-$59 CAD/USD one-way charge within Canada and Canada/U.S. excluding Hawaii.  Traveling internationally will incur a charge of $100-$118 CAD/USD. Your pet will count as one standard item toward your carry-on baggage allowance in its carrier.  It is important to note that if your flight is marked Air Canada, but operated by a codeshare partner the pet fee can cost $105-$120.75 CAD/USD within Canada and Canada/U.S. excluding Hawaii.  International flights can cost $270-$318.60 CAD/USD. Traveling with an emotional support animal has zero fees, but it is important to properly document so that you qualify.
Required ESA Documents & Regulations
Air Canada knows how important support animals can be, but do require documentation and have a few regulations.
At this time Air Canada only accept dogs as emotional support animals.
You must advise Air Canada Reservations 48 hours in advance of your travel.
You must provide an original ESA letter on the letterhead of the licensed mental health professional (e.g. psychologist, psychiatrist, the treating general practitioner, or a licensed clinical social worker) who is treating the passenger's mental or emotional disability dated within one year of your departure date.
Veterinary Health Certificate – The veterinary health certificate needs to be issued no more than 10 days prior to your departure.  If you are traveling to the U.S., your animal has to have its rabies vaccination certificate.
Air Canada recommends having copies of all documentation related to your support animal.  Also, if you have a connecting flight, make sure that you know where the relieving areas are and that you have enough time between there and your connecting point.  Calling the airport or going to their website beforehand to find relieving areas can save time. The Canada Transportation Governing Board has provided an animal checklist for those who wish to fly with their ESA.
ESA Letter Requirements
An ESA Letter must be written by a medical or licensed mental health professional and contain the following information.
You have a mental or emotional disability recognized by the DSM-IV (Diagnostic and Statistical Manual of Mental Disorders).
You need your dog for emotional or psychiatric support during travel and/or at the destination.
The person who prepared the document is a licensed mental health professional.
You are currently under the care of the licensed mental health professional.
The letter must also provide information on the mental health professional's license: type of license, date issued, and issuing authority.
Preparing Your ESA For Flight
The more comfortable your support animal is the more comfortable you will be.  Shuffling through busy airports and flights can be stressful for anyone, so it is important that your support animal has as much comfort as possible.  It is recommended that:
You feed your support animal 6 hours before the flight, eating right before a flight could be unsettling for your animal.  You can give your ESA water up to the departure time, but make sure to empty the water dish before boarding the plane. Spillage during the flight can give your animal a wet and uncomfortable ride.
Do not lock the carrier door and have an empty water dish in case of an emergency.  Flight attendants can go in the kennel and give your animal water if it is needed in this case.
Plan for breaks in relieving areas especially on long or connecting flights
Make sure you have a leash for your animal when not in a carrier
Cover the bottom of the carrier with absorbent material such as a blanket.
Once on the airplane, your support animal can either sit under your seat in a carrier during the flight.  Air Canada requests that your animal not take up an extra seat, block aisles, or rest in exit aisles.
Air Canada Carrier Requirements
Animal safety and comfort are a high priority at Air Canada.  Air Canada created a set of guidelines in order to make air travel more comfortable for everyone.
It must be leak-proof and well ventilated.  Both soft-sided (preferred) and hard-sided carriers are accepted in the cabin.
It must be big enough to allow your animal to stand up, turn around, and lie down safely and comfortably.  No part of the animal may extend outside the carrier. Your animal could be refused travel if the carrier is deemed to be too small for its size.
Your animal must remain in the carrier and the carrier must remain under the seat and closed at all times.
It will count as the one standard carry-on item, which you're allowed to bring on board.
On Boeing 777-300ER and 777-200LR aircraft, the pet carrier cannot exceed these dimensions.

Height: 21 cm or 8.25 in.
Width: 38 cm or 15 in.
Length: 43 cm or 17 in.

In our cabins equipped with lie-flat beds, only small or miniature dogs and cats are allowed.  Soft-sided carriers are recommended, and they must not exceed these dimensions:

Height: 28 cm or 11 in.
Width: 21 cm or 8 in.
Length: 41 cm or 16 in.
Breed Restrictions
The following list of short/snub-nosed breeds of cats and dogs cannot travel in the baggage compartment, because they are susceptible to increased risks of heatstroke and breathing problems.
Cats
British Shorthair
Burmese
Exotic Shorthair
Himalayan
Persian
Scottish Fold
Dogs
Affenpinscher
Boston Terrier
Boxer
Brussels Griffon
Bulldog – all breeds including the American, English, French, and Dutch Bulldog
Chihuahua (apple-headed)
Chow Chow
English Toy Spaniel
Japanese Cin
Lhasa Apso
Pekingese
Pug – all breeds including the Chinese Pug
Shar-Pei
Shih Tzu
Teddy Bear also known as Zuchon or Shichon
Tibetan Spaniel
Strong Dogs
Certain dog breeds are classified as strong dogs and must be transported in a special reinforced container or crate when traveling in the baggage compartment.
The container must be constructed of weld or wire mesh, metal, wood, or a synthetic material other than plastic.  The crate door must be made of wire mesh, metal, or wood and should have a secure lock that can't be accidentally opened.
Caucasian Ovcharka ( Caucasian Shepherd Dog)
Karabash (Kangai Dog, Antolin Shepherd Dog)
Pit-bull – all breeds including American Pit-bull, American Bully, American Staffordshire Terrier (amstaff), British Staffordshire Terrier, Staffordshire Bull Terrier
Mastiff – all breeds including American, Argentine (Dogo Argentino), Bandog (Bandogge), Brazillian (Fila Brasileiro), English, French (Dogue Du Bordeaux), Italian (Cane Corso), Neopolitan, Presa Canario
Rottweiler
Wolf Dog Hybrids
ESA Weather Traveling Restrictions For The Baggage Compartment
There are weather traveling restrictions to protect the animal from heatstroke and freezing because not all aircraft are equipped with a temperature-controlled and ventilated baggage compartments.
During extreme summer when temperatures exceed 29.5°C or 85°F it is recommended that you travel in the early morning or late evening when temperatures are lower, and whenever possible choose a direct or non-stop flight to limit the time your animal will be spending in the baggage compartment.
Cold Weather Restrictions
From November 1st to March 31st and any other time when temperatures are at or below 0°C 32°F
Cats and Dogs weighing less than 4.5 kg or 10 lbs. Are not to be accepted in the baggage compartment of the aircraft.
No pets will be accepted on the following aircraft:
It is not recommended to transport animals as checked baggage on our Airbus A319-100, A320-200, and A321-200 aircraft as the cargo compartment is not heated and temperatures can be as low as 0°C or 36°F.  Also, cats and dogs are not accepted in the baggage compartment of the Boeing 737 Max 0 (7M8) aircraft due to minimal heating in the cargo hold.
Peak Winter Travel Restrictions
December 15 to January 12
No pets are accepted as checked baggage or cargo due to increased passenger and cargo loads during the peak winter travel period.
September 14 to January 14
No pets are accepted as checked baggage due to increased passenger and cargo loads during the peak winter travel period on:
Air Canada flights AC1980 and AC1982 between Toronto and Mexico City
Air Canada Rouge flight AC1988 between Montreal and Mexico City
Government Regulations on ESAs
Ontario government regulations ban pit bulls from the baggage compartment and the cabin.  This breed includes the pit bull terrier and the Staffordshire terrier.
If you are traveling to the U.S. rabies vaccination is required for all dogs.  Have a current valid rabies vaccination certificate.
There are federal laws that protect you and your ESA.  The Canadian Transportation Agency grants you the right to fly with your ESA.  It also forces Airlines to comply with the Air Transportation Regulations. When it comes to housing your ESAs are also protected, but these are provincial laws and not federal.
Reach out to a medical professional to see if you qualify for an emotional support animal today.