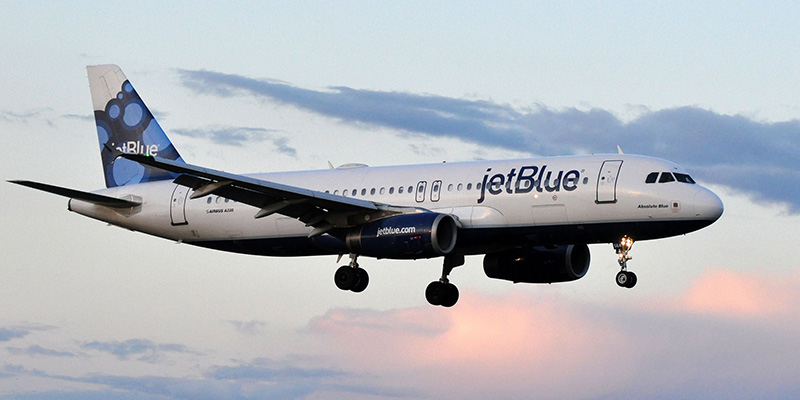 A service dog or therapy animal is an animal that is certified to provide assistance to someone with a verified mental, physical or intellectual disability. Service animals are becoming more and more common as a treatment or support for disability, and can help their owners with many tasks specific to their condition, such as providing emotional support, retrieving dropped items, guiding the blind, alerting the hearing impaired to noises or alarms, and even warning a diabetic of a drop in blood sugar levels. For many service dog owners, it is imperative for their animals to accompany them at all times, especially on a flight during which many health or emotional issues could arise. It's important to know the rules and regulations regarding each airline's policy for service animals.
Traveling with Service and Emotional Support Animals
Most airlines are required to accommodate emotional therapy and service animals as long as the necessary requirements are met. JetBlue Airlines make it a priority to assist those traveling with service dogs in any way possible. JetBlue requires passengers with psychiatric service animals or emotional therapy animals to provide documentation to verify the disability and need for the animal. Emotional therapy animals are not required to have official service dog training, but should still be trained to behave in a public setting. For other service animals, documentation is only required if the passenger cannot provide credible verbal assurance of the need for a service animal. For both types of assistance animals, passengers must notify the airline of the service animal prior to traveling. JetBlue will waive the pet fee of $100 per animal as well as the limit of one animal per passenger for service and therapy animals. Some animal owners may have a need for more than one service pet. For passengers with multiple service animals, the owner may purchase another seat or wait until a later flight in the case that all of the animals are unable to be accommodated. Passengers with service animals are exempt from size limits for the animal's crate, and will not be charged for an oversized crate accommodating a larger animal.
Want To Bring Your Pet On The Plane? Register Your ESA Now!
Service animals are required to stay with their owners at all times in the airport and during the flight. Service animals should stay in a crate on the floor of the plane, but if small enough may accompany their owner in his or her lap. JetBlue has designated Airport Animal Relief Areas with employees available to assist passengers with service animals. There are some emotional or service animals which aren't accepted, including service dogs still in training, birds with wings unclipped, and unusual animals such as reptiles, rodents and spiders which may pose a threat to other passengers.
Traveling with Service Animals on International Flights
While service animals on domestic flights are not required to have any vaccines, there are different requirements for animals traveling on international flights depending on the destination. These policies can be reviewed on the JetBlue website. For some countries, a special permit may be required for a service animal to enter. Some destinations have laws in place that give the country's airport the right to refuse any animal.
Tips for Traveling with Pets
Make sure your pet has had ample time in its pet carrier to become comfortable staying in the crate during the flight.

Bring treats and snacks for your pet to have during the flight.

Make sure your animal has a pre-flight exercise.

Remember to bring all documentation verifying the service animal as well as the owner's disability, and have it on hand to present upon request.

Don't forget to pack your service dog's harness, identification vests or tags, and any other specialized gear your animal may need on the flight or at the destination.
Before traveling with an emotional therapy animal or service dog, it's important to be aware of all policies and requirements for each airline to make sure your travels go smoothly and both you and your pet arrive safely at your destination. For a comprehensive guide to JetBlue's animal policies, please visit the JetBlue website here. The United States Department of Agriculture (USDA) also has a handy, up-to-date guide for traveling internationally with assistance animals.