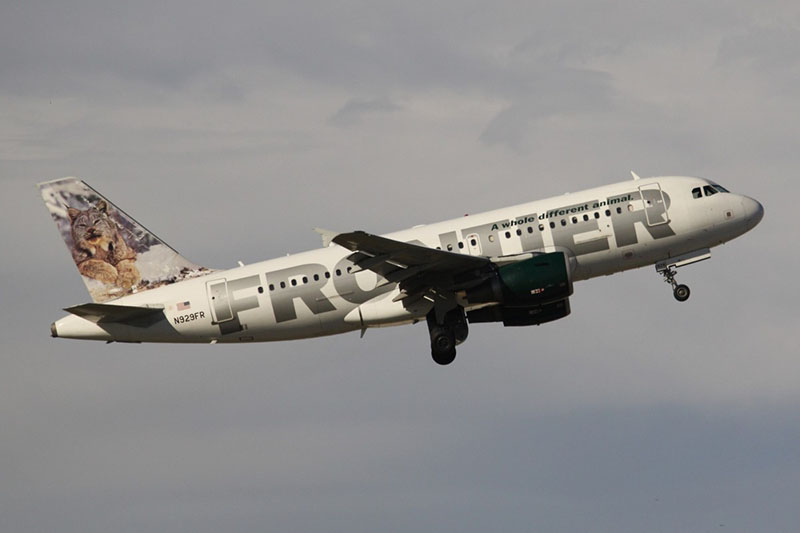 No vacation is complete without every member of the family taking part – including your pet. Air travel is becoming more convenient for pet owners with more and more people bringing their furry friends with them wherever they go. Though taking your pet is allowed, the options and policies between airlines may differ, so it's important to be aware of the specific guidelines for your chosen airline. So, let's take a deeper look into the pet travel policies of Frontier Airlines.
Frontier Airlines Pet Fees
Let's start by diving into pet fees first, since expenses are always an important aspect of planning any vacation, work trip, or family visit. When it comes to Frontier Airlines, they charge $75 per animal in the cabin, but as long as an animal follows their service animal or emotional support animal guidelines, the animal's transportation in the main cabin is free.
As mentioned, the cost for an in-cabin ticket is $75 each way, which is one of the cheapest options among airlines. Your animal must fly under the seat in front of you in a carrier no larger than 18" X 14" X 8", and this carrier can be brought on the plane in addition to another carry-on bag you may have.
What Animals Are Permitted
Previously, Frontier permitted a wide variety of small animals, including domesticated dogs, cats, small birds, hamsters, rabbits, and guinea pigs, on any of their flights, from domestic to international. However, they have officially changed their ESA and service animal policy, and they now only allow domesticated dogs and cats to fly. Due to safety concerns about animals traveling as cargo, Frontier does not allow animals to be shipped with cargo or checked baggage, so the only option is for your pet to fly with you in the cabin.
However, they do hold the right to deny passage to any animals that may be determined to be aggressive, out of control, scratching, urinating, defecating, or distracting. If an animal is barking, not controlled by a leash, not contained in a crate, biting, lunging, or whining, they may be considered to be a nuisance and will not be allowed to board the flight, even with the proper documentation and forms. In order to avoid this, simply be prepared, and make sure your dog or cat is ready for the trip. That way, you can ensure your ESA or service animal may join you on your Frontier Airlines flight.
Required ESA Documents & Forms
Any ESA owner knows it's important to have the right documents and forms, no matter where you're planning on taking your animal: to a new home, on the bus, at work, or on a flight. When traveling on Frontier Airlines, they require that you fill out and provide completed paperwork for two documents.
The first document, the Animal Behavior Acknowledgement, recognizes that you are liable for your ESA's conduct. It also notes that you have properly trained the animal to behave appropriately for the flight in tight quarters around other people and that you understand and agree that should your pet act inappropriately, they will be removed from and/or not permitted to be on the flight. This is all according to Frontier Airline's ESA and service animal rules. This ensures your pet is ready for the flight and will not cause a stir or disrupt the flight.
The second document, Medical/Mental Health Professional Information, requires your physician or mental health specialist to sign off on your physical or mental condition(s) that entails your need for a service animal or ESA. This document proves that you have a need for the animal, that you are under their respective care, gives the date it was issued, and also states the type of certification your physician or mental health specialist has.
These documents are due at least 48 hours prior to your flight, but once they are provided to Frontier Airlines, they are good for a year. So, good news for frequent fliers: you won't have to update the paperwork often. However, you must let Frontier Airlines know at least 48 hours in advance if you plan to bring an ESA or service animal on your flight, for them to properly accommodate you and your animal. If you do not let them know at least 48 hours in advance, your ESA may still be eligible to fly under their Pet Policy, but you may incur an extra fee.
Special Rules for Service Animals
Traveling with a pet is not considered the same as traveling with a service animal or an emotional support animal. Frontier allows service animals on board their flights at no extra cost and the animal can fly out of a carrier on the floor by your feet. Some documentation, like identification, may be required when checking in, but a health certificate is not necessary. US Service Animals is a great support organization that can help when making travel arrangements. They can help you identify and prepare all the travel documentation you'll need for a smooth and safe flight with your ESA.
Frontier Airlines also recommends that you check with the country you are traveling to if you are travelling internationally, as many countries have restrictions or regulations for animals.
Preparing Your ESA for Flight
When it comes to traveling with an animal, keeping them calm is key; and it will help you have a much more enjoyable flight, as well. Busy airports and flights can be an overwhelming experience for a dog, cat, or even yourself. That's why it's important to make sure your ESA is as relaxed as possible when traveling through a hectic environment. Here are some tips on keeping both you and your pet calm throughout your trip.
Don't feed your pet for a few hours prior to the flight; this will prevent their need to urinate or defecate during the flight. This will also ensure your ESA will be less likely to whine and less likely to have to be removed due to urinating or defecating in the airport or on the airplane.
Schedule times to take your dog or cat to go potty, especially during long layovers.
Keep your dog or cat contained, either by using a leash or having them contained in a crate.
Bring treats, blankets, and/or toys that will keep your dog or cat comfortable and relaxed during the flight.
When you board the plane, your pet may be kept either on your lap, or they may be placed at your feet (If you prefer this method, it is recommended you keep them in a small kennel.). This is the policy as long as the animal is smaller than a child under the age of two. To respect airplane etiquette, your pet should not occupy another seat, block the aisle, or block any of the exit aisles. Frontier Airlines also mentions that animals should not be placed on the seatback tray tables or allowed to eat directly off of the tray tables.
Want To Bring Your Pet On The Plane? Register Your ESA Now!
When transitioning at airports, make sure to have your animal contained, whether that be by leash or by kennel. Frontier Airlines also notes on their website that it is important to keep your pet properly secured if you must travel by taxi or shuttle between terminals. It is not listed on Frontier Airlines' website whether or not you are allowed to let your animal out of their kennel at certain terminals, so be sure to ask an employee when you arrive at the respective airport. While at the terminal or airport, it is important to bring your dog to a designated area to let them relieve themselves. All airports in the United States are required to provide an animal relief area, and if you ask a Frontier Airlines employee, they will be happy to show you or guide you to these specified areas.
Teach your Support Animal Proper Airline Behavior
When training your dog, it is best to always use positive reinforcement. As you should know by now, it is important to train your animal well, so they respond well around other people and in strange places. This is especially important on airplanes, as they must respond well to your commands, be potty trained, and respond well around other passengers. Nearly every airline holds the right to deny passage to you or your dog if they deem it necessary, and Frontier Airlines' ESA policy declares that they reserve the right to deny transportation to both you and your support animal if they feel that your ESA may be aggressive or a nuisance. According to the Frontier Airlines ESA policy, inappropriate behavior is classified as:
Growling at other passengers or crew
Jumping on other passengers
Urinating or defecating in the airport (specifically the gate area) or cabin
Barking excessively, unless it is to alert others of a dire medical emergency or meet its handler's needs
Eating off or standing/sitting on top of seatback tray tables
Lunging at other passengers or crew
Acting aggressively and biting other passengers or crew
Whining excessively
Acting uncontrollably

The owner cannot properly control or restrain the animal or is not contained by a leash or crate
If your animal meets any of these criteria, Frontier Airlines may refuse to let you and your ESA board a flight. That is why it is important to work with your animal prior to the trip to ensure that they will behave appropriately.
If you meet all the requirements, provide adequate notice and paperwork, have a pet that acts appropriately and respectfully, and you are still denied transportation or required to pay their Pet Policy fee, our amazing team is ready to help you. Part of USSA's mission is to equip those with ESAs the knowledge and tools necessary to truly enjoy life with their ESA. After all, your ESA is there to make your life easier, not harder. Need our help? No problem. Our incredible team is ready to get you secure the proper documentation and get in touch with legal help.
Visit our website at https://staging.usserviceanimalsbeta.org/ to learn more.